Hello.
I use my bike to commute.
Because of my profession, I spend hours sedentary.
I made my commute by bicycle to relieve the lack of exercise.
Bike commuting is super comfortable than expected.
I often go on business trips to the center of Niigata City,
but there is not always a parking lot at the place where I go on a business trip.
If I were to go on a business trip by car,
there would be a considerable parking fee depending on the location.
But if I use my bicycle to get around,
I don't have to worry about parking at all.
In addition, there is no parking fee.
However, traveling by bicycle is very vulnerable to rain, wind and snow.
The key of my favorite bicycle, Bridgestone's mini-velo, is having trouble locking.
When I unlock the key lock, there is nothing,
It became very difficult to get out the key only when locking it and pulling it out of the keyhole.
When I looked it up on the net,
There are various opinions such as letting the keyhole oil and not healing,
As an amateur, I can't judge.
When I was doing various things,
I noticed that it is good to fill both sides of the key with a pencil.
It seems easy, so I decided to try it immediately.
I carefully smeared the powder of the wick with a pencil on the hollow of the dimple key.
Let's try it out.
I plugged in the key, unlocked it, and immediately locked it.
Oh Amazing!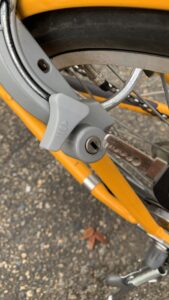 I had been struggling, taking a lot of time,
and feeling tremendous stress when I finally pulled out the keys.
Now I can pull out the keys smoothly and comfortably.
It felt so good that I plugged it in and out many times.
Thank you to the person who wrote this on Yahoo! JAPAN Chiebukuro.
The way you cover your keys with pencil lead powder is the way recommended by key makers.
It feels really good to slip out the key.
If you feel that your key is a dimple key and it is difficult to come out,
Give it a try.