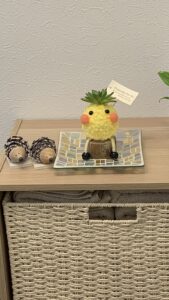 Hello.
Super practically Excel class Nyacom is open at Nishibori Rosa 7 in Chuo-ku, Niigata City, but at the same time the neighbor also opened, so I will introduce it today.
As the title suggests, it is Suina Manipulative Bodytreatment Urara -san. From the structure of the shop, there is a gentle atmosphere. It is a healing space surrounded by greenery.
The shop owner who performs the treatment is also wrapped in a gentle atmosphere. I had a little treatment for my neighbor's help, but even though it was only for a few minutes, I was out. Wow, that's awesome! Urara-san has only recently opened, but it is such a thriving restaurant that there is not a day that customers do not visit. I am really envious of this ability to attract customers. The reason for the prosperity is probably a comprehensive one such as the personality of the shop owner, the technique, and the atmosphere of the shop. It's all good.
Urara's sign says "stiff shoulders, lower back pain, tiredness", but whether you are suffering from fatigue and pain or not, there is no doubt that you will go out with a fluffy, warm and good feeling.
If you want healing, please go to Nishibori Rosa 7's Suina Manipulative Bodytreatment Urara-san!